A slow-cooked casserole of tender beef in a red wine and tomato sauce, with black olives and bell pepper.
For 6 persons:
- 5 tablespoons olive oil
- 2.5 lbs boned beef chuck, cut in i.5-inch pieces
- 1 large onion, very finely sliced
- 2 carrots, chopped
- 3 tablespoons finely chopped fresh parsley
- 1 garlic clove, chopped
- 1 bay leaf
- a few fresh thyme sprigs (I replaced with dried thyme)
- pinch of freshly ground nutmeg
- 1 cup red wine
- 14-ounce can plum tomatoes, chopped, with their juice
- 1/2 cup beef or chicken stock
- about 15 black olives, halved and pitted
- salt and ground black pepper
- 1 large bell pepper, preferably red, cut into strips (mine was orange, sorry! :D)
Note: The quantities shown in my photos are halved (for 3 persons).
- 5 linguri ulei de masline
- 1 kg carne de vita, taiata cuburi
- 1 ceapa mare, taiata pestisori
- 3 linguri patrunjel proaspat, tocat
- 1 catel de usturoi, tocat
- putin cimbrisor proaspat (eu am pus uscat)
- 1 conserva de 400 gr rosii tocate, si sucul lor
- 100 ml supa de pui sau de vita
- cam 15 masline negre, fara samburi, taiate in jumatate
- sare si piper negru proaspat macinat
- 1 ardei gras, de preferinta rosu, taiat fashii (al meu a fost portocaliu :D)
Cantitatile folosite de mine au fost injumatatite.
Preheat the oven to 350F/170 C. Heat 3 tablespoons of the oil in a large heavy-based flameproof casserole (I used my dear green Dutch oven) and brown the meat, in batches, on all sides.
Incalziti cuptorul la 350F/ 170C. Incingeti 3 linguri de ulei intr-o cratita
pe care o puteti folosi si in cuptor, apoi prajiti carnea, in serii daca e necesar, pe toate partile.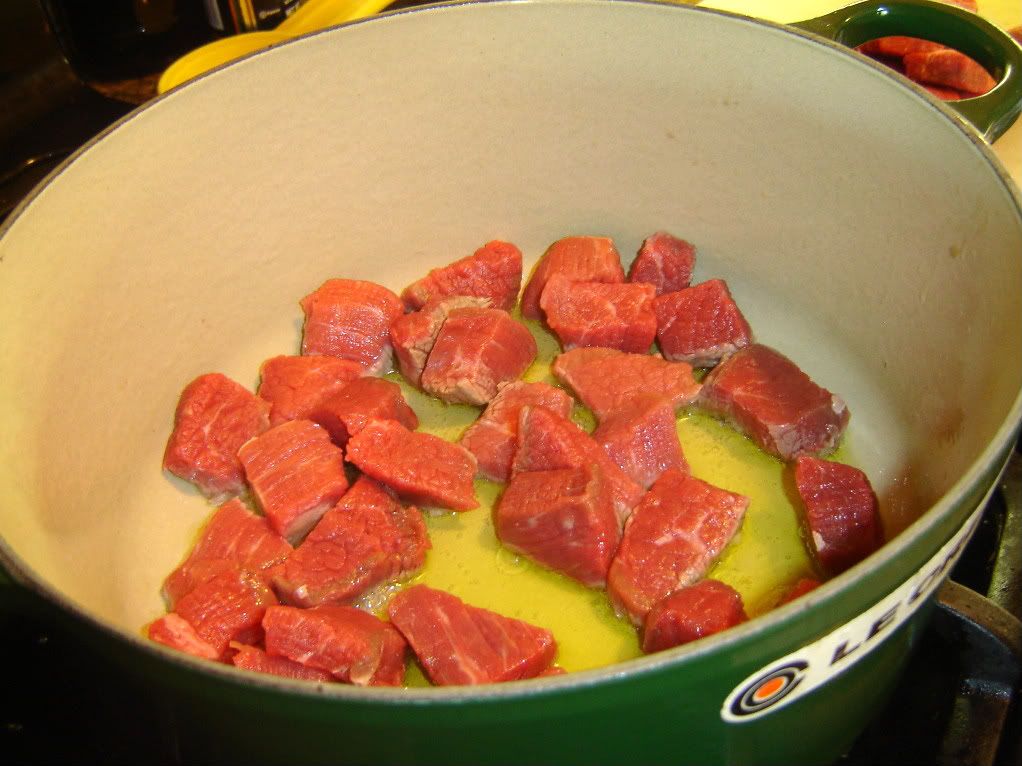 Remove to a side plate as the meat is browned and set aside until needed.
Scoateti carnea pe o farfurie si lasati deoparte.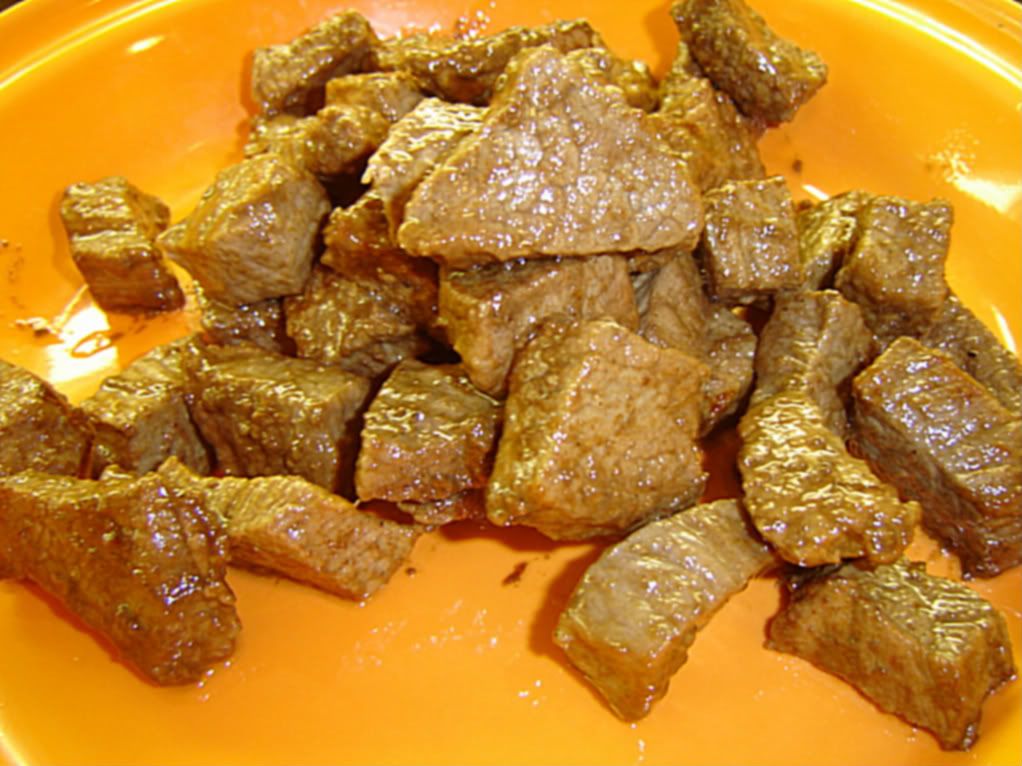 Add the remaining oil, the onion and carrots to the casserole and cook over a low heat until the onion softens.
Puneti in cratita restul de ulei, adaugati ceapa si morcovii si lasati la foc mic pana ce se inmoaie ceapa.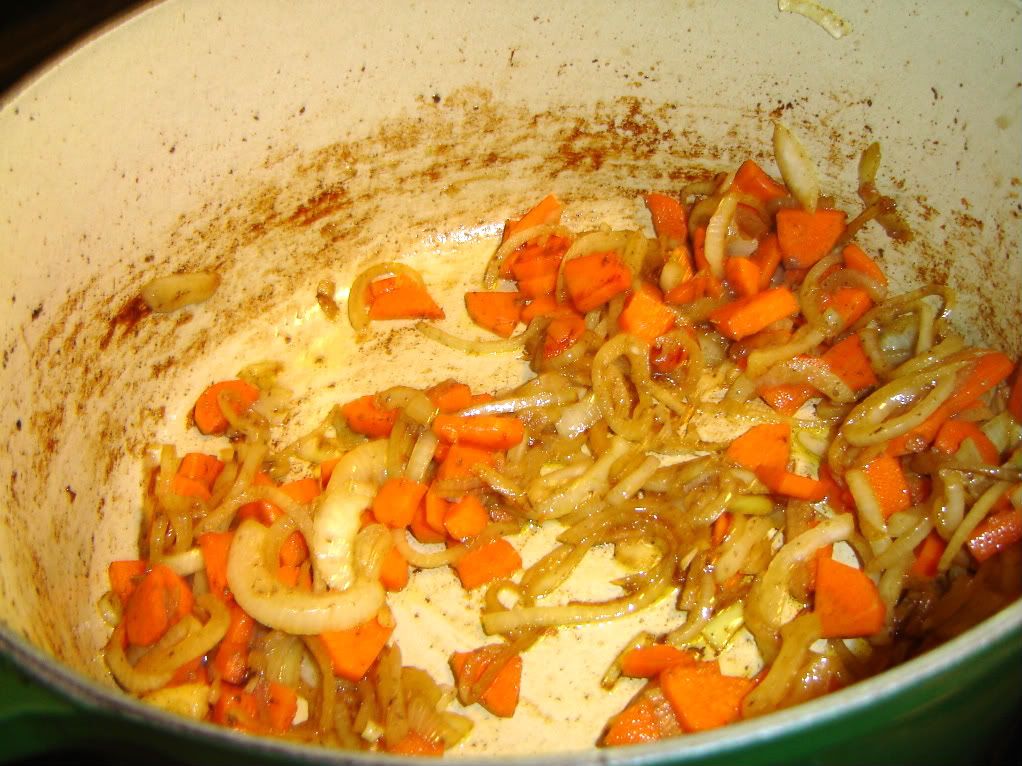 Add the parsley and garlic and cook for another 3-4 minutes.
Adaugati patrunjelul tocat si usturoiul si lasati inca 3-4 minute.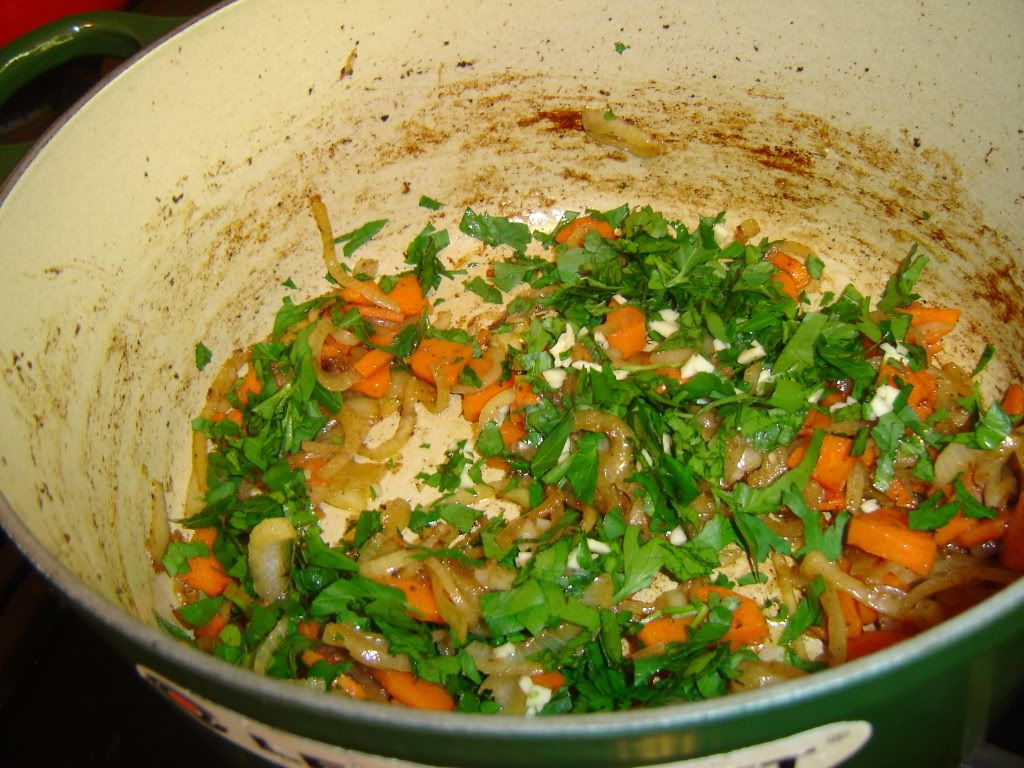 Return the meat to the casserole, raise the heat and stir well to mix the vegetables with the meat.
Puneti carnea inapoi in cratita, mariti focul si amestecati bine legumele cu carnea.
Stir in the bay leaf, thyme and nutmeg, then add the wine, bring to a boil and cook, stirring, for 3-4 minutes.
Adaugati foaia de dafin, cimbrisorul si nucsoara, apoi puneti vinul, aduceti la punctul de fierbere si amestecati mereu, timp de 3-4 minute.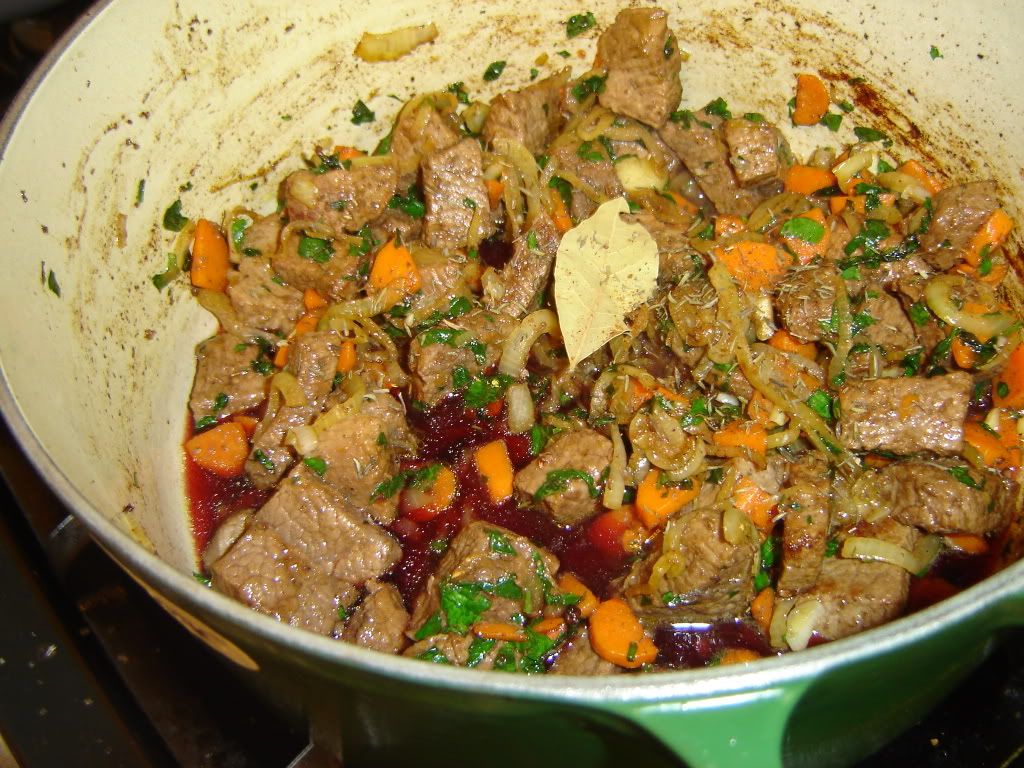 Stir in the tomatoes, stock and olives and mix well; season to taste with salt and pepper.
Puneti rosiile, supa de pui/vita si maslinele si amestecati foarte bine; adaugati sare si piper dupa gust.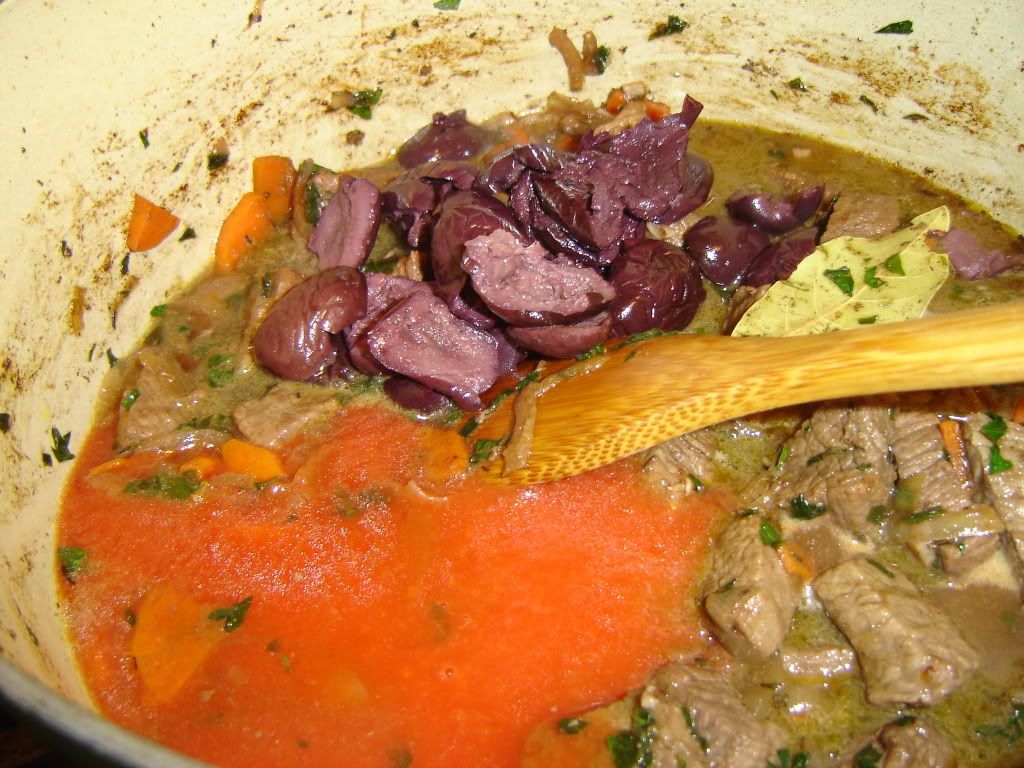 Cover the casserole with a tight-fitting lid and place in the centre of the preheated oven; bake for 1.5 hrs.
Acoperiti cu un capac si introduceti in cuptorul preincalzit pentru 1,5 ore.
Remove the casserole from the oven and stir in the strips of bell pepper.
Scoateti cratita din cuptor si adaugati fashiile de ardei gras, amestecati.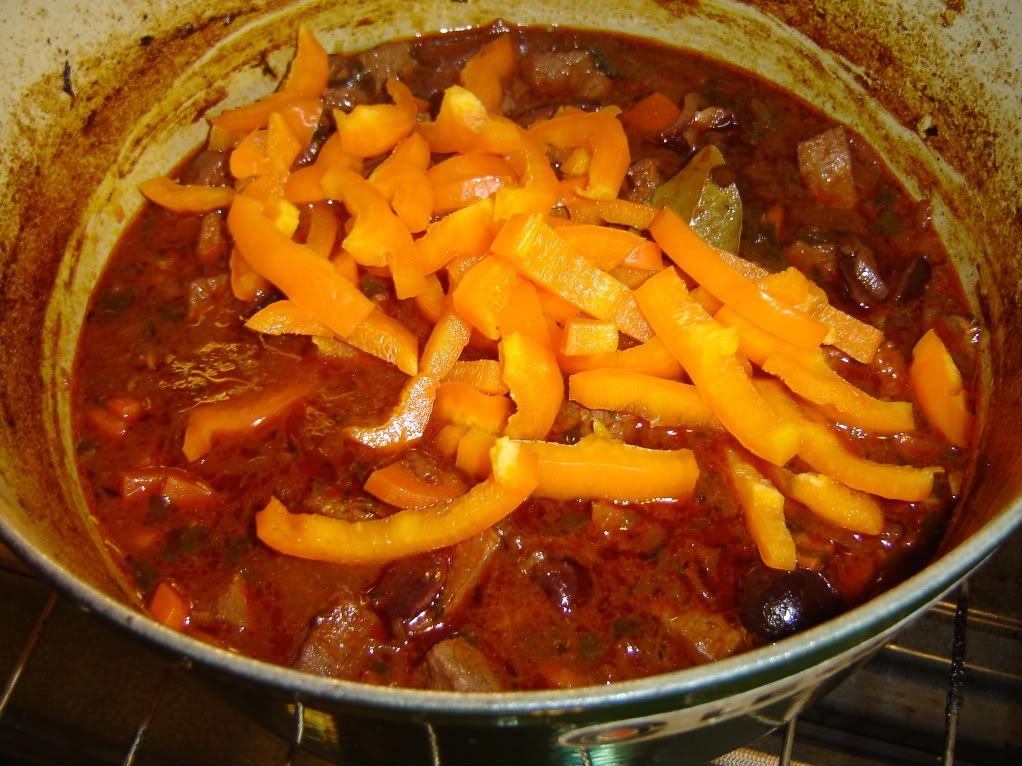 Return the casserole to the oven and cook, uncovered, for another 30 minutes, or until the beef is tender.
Reintroduceti la cuptor, fara capac, si lasati
pentru inca 30 minute sau pana cand carnea este moale.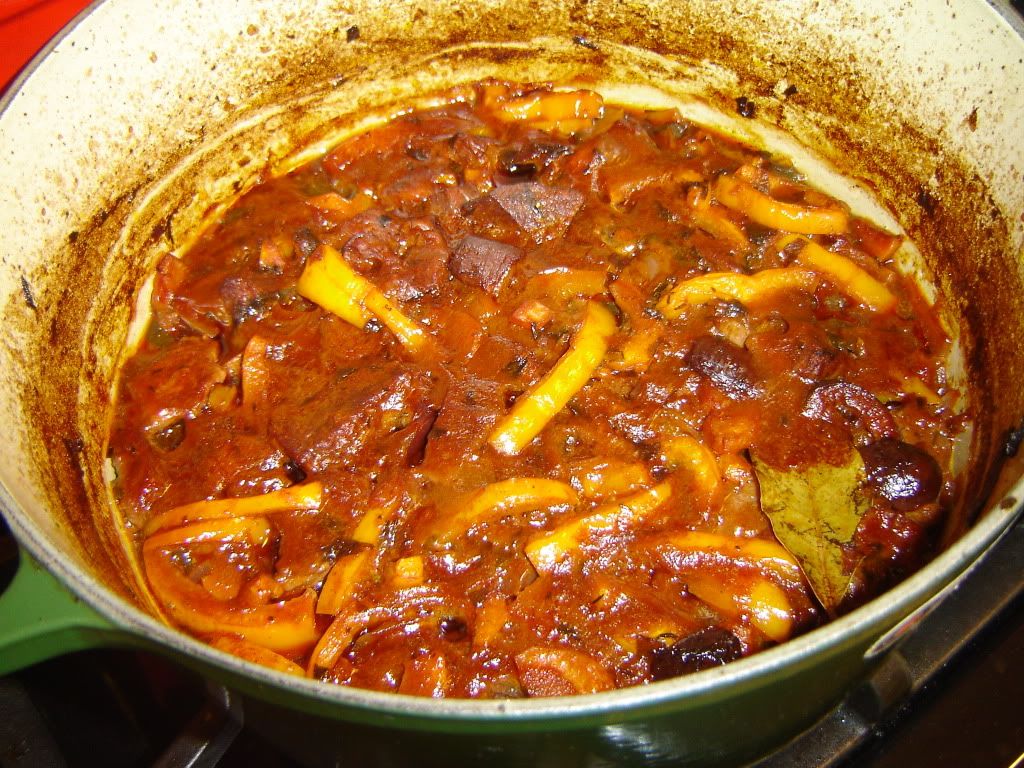 Ready to be eaten: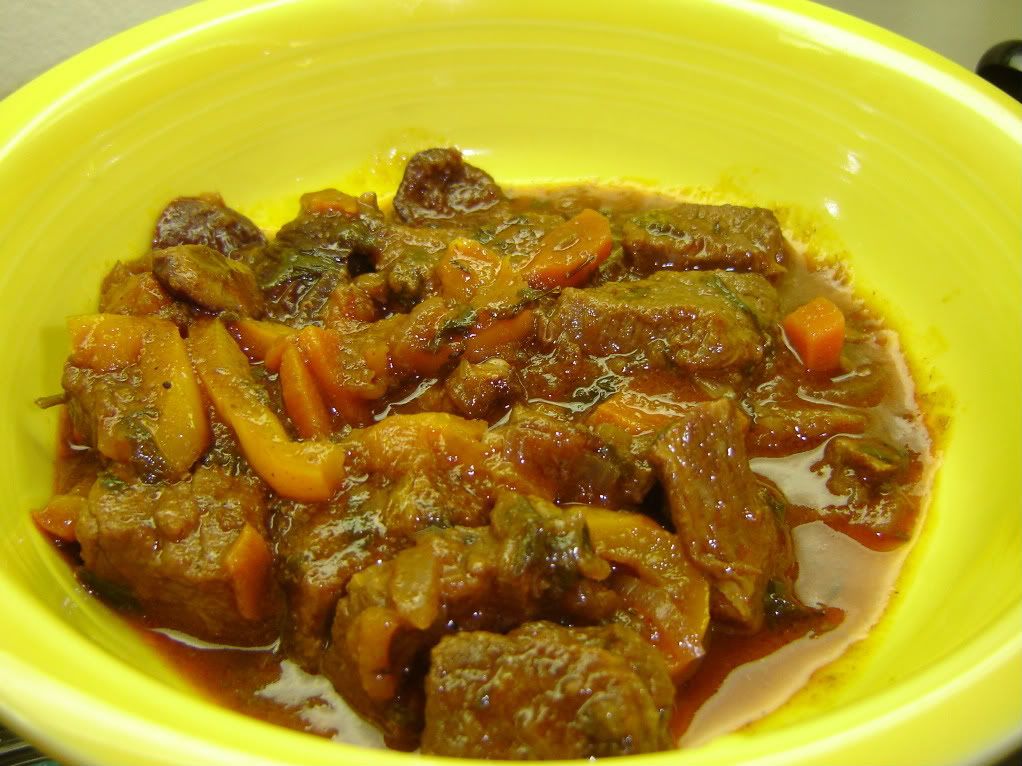 Enjoy!