It's so cold these days that I thought of a remake of my daughter's favourite soup, perfect for the winter time, real comfort food: chicken soup with grits dumplings. You are, of course, more than welcome to replace chicken with vegetable soup, but I have absolutely no idea how that might work, because to me these dumplings are always associated with chicken soup. However, chicken stock can be successfully substituted for beef stock, but the first remains my preferred version.
E atat de frig zilele astea incat m-am gandit sa fac din nou supa preferata a fetitei mele, perfecta pe timp de iarna: supa de pui cu galuste de gris. Evident ca supa de pui se poate inlocui cu supa de legume, insa n-am nici cea mai mica idee ce gust va avea, pentru ca, pentru mine, galustele sunt intotdeauna asociate cu supa de pui. Puteti inlocui supa de pui cu supa de vita, insa cea de pui ramane varianta mea preferata.
I would normally use chicken backs and necks to make the chicken stock. Well, there was no sign of those at my local grocery store, so being this cold outside, I decided to stop fussing around and use bone-in, skin-on thighs instead, then add the cooked meat in the soup at the end.
In mod normal folosesc spate si gat de pui pentru a face supa de pui. De data asta, n-am gasit partile astea la magazinul care imi e aproape, si fiind atat de frig afara am hotarat sa folosesc pulpe cu os si piele, urmand sa adaug carnea fiarta in supa, la sfarsitul prepararii.
So, I heated 1 tablespoon of olive oil in a pot, then I added the thighs skin side down. Get 2 large eggs and 2 tablespoons of butter out of the fridge because they need to get at room temperature.
Am incins 1 lingura de ulei de masline intr-o oala, si am adaugat in oala pulpele cu pielea in jos. Am scos din frigider 2 oua si 2 linguri de unt, pentru ca aveam nevoie de ele la temperatura camerei.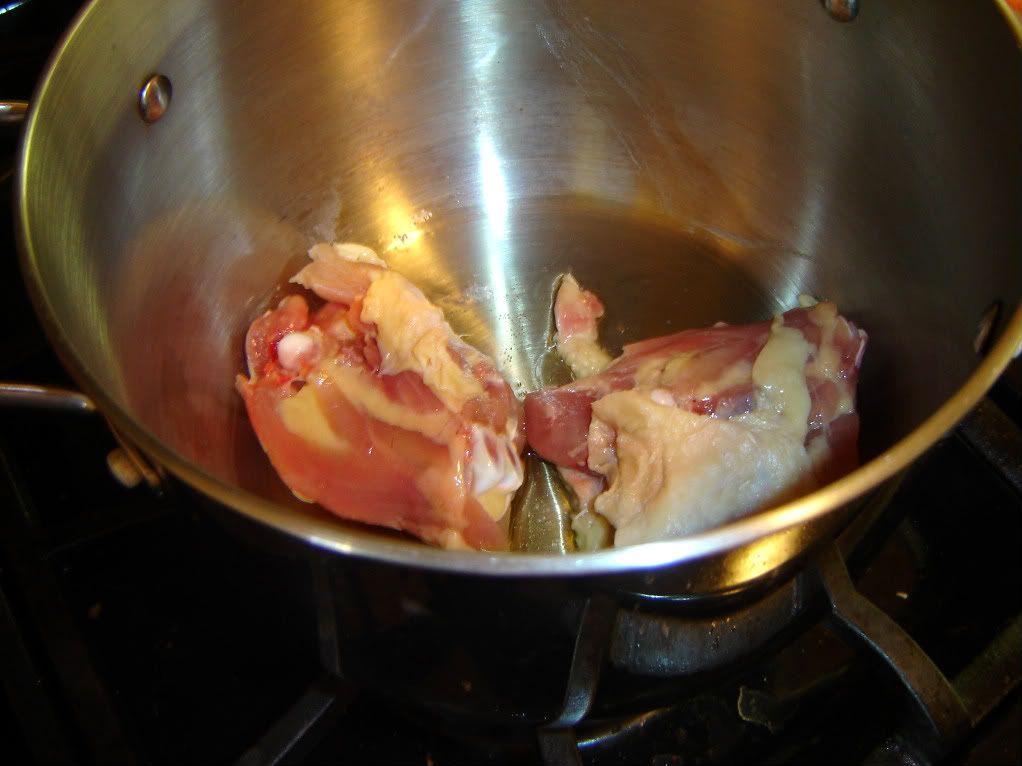 I let them cook for about 5 minutes on each side, then I added 1 sliced carrot, 2 chopped celery stalks and 1/2 chopped parsley root, salt and pepper to taste, then allowed them to soften a bit.
Am lasat pulpele cam 5 minute pe fiecare parte, apoi am adaugat 1 morcov ras, 2 tije de telina tocate si jumatate de radacina de patrunjel tocata, sare si piper dupa gust, si am lasat legumele sa se inmoaie putin.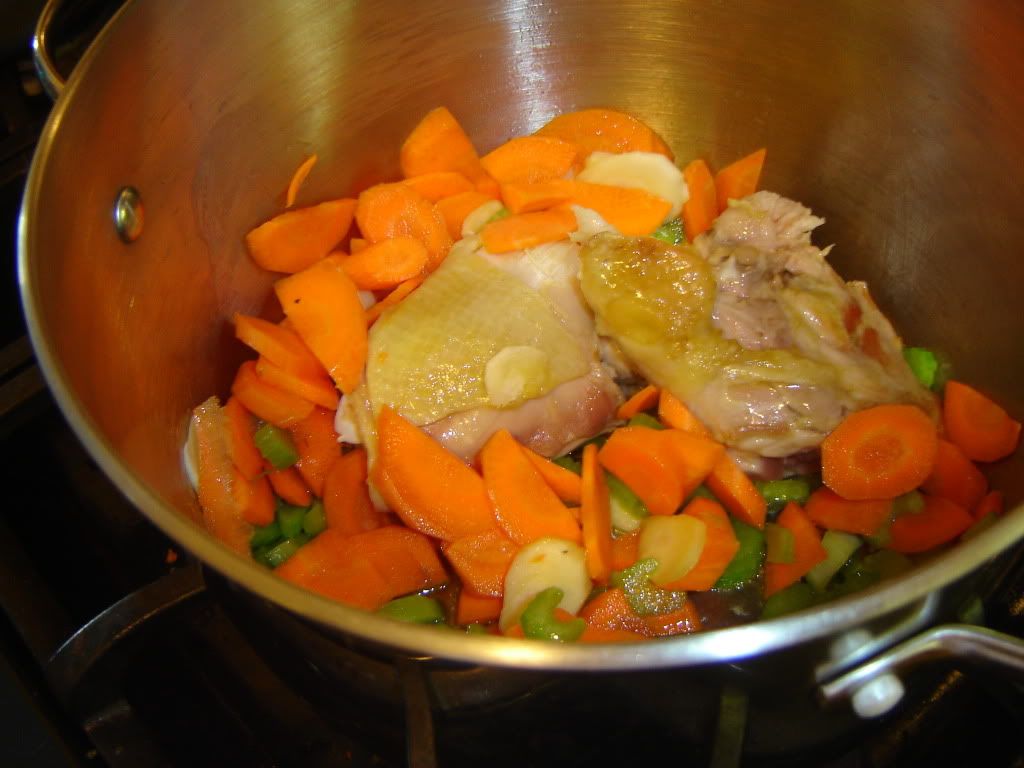 I poured in 1 quart of water and 1 quart of chicken stock, lowered the heat and let it reach the boiling point
Am turnat un litru de apa si unul de supa de pui, am micsorat focul si am lasat supa sa ajunga la punctul de fierbere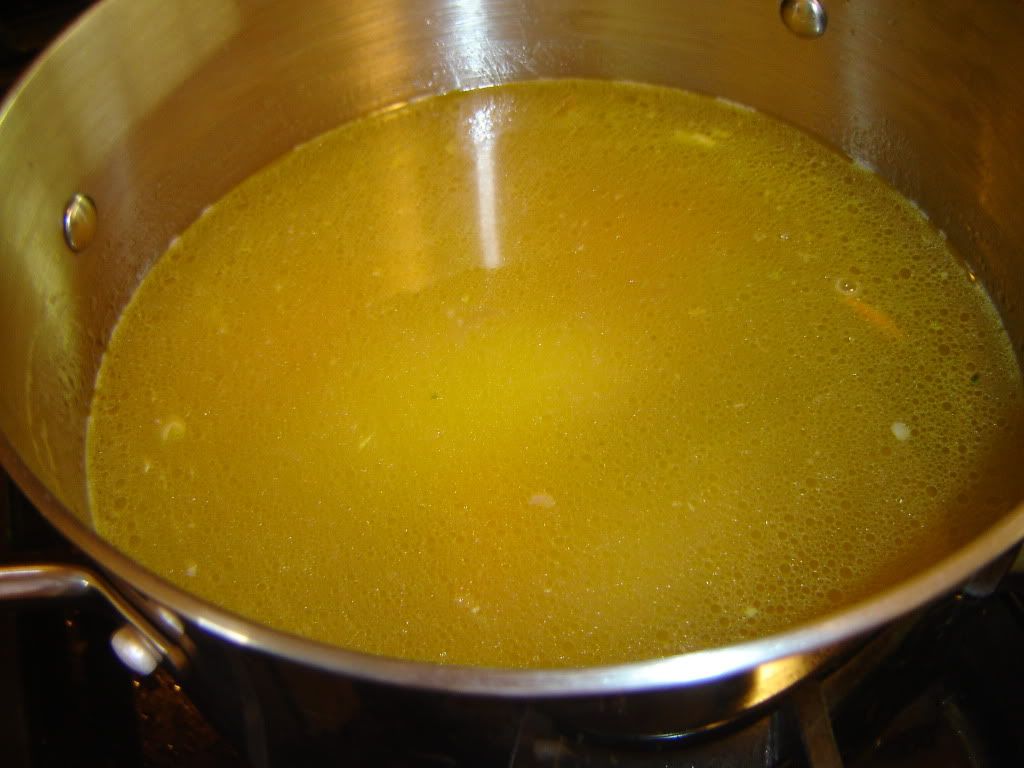 Now, remember the eggs and butter you took out of the fridge? Well, it's time to make some dumplings! Cream the softened butter, beat the eggs with a pinch of salt, then combine the two. Add the grits, one tablespoon at the time, until the composition resembles a not very thick sour cream - about 6 tablespoons of grits. Allow to sit for 10 minutes.
Cu ouale si untl pe care le-am scos din frigider m-am apucat sa fac galustele. Am mixat foarte bine untul, pana a ajuns ca o crema; am batut ouale cu putina sare, apoi le-am combinat cu untul. Am adaugat grisul, cate o lingura odata, pana ce compozitia a semanat cu o smantana nu foarte subtire - cam 6 linguri de gris. Am lasat amestecul sa se odihneasca 10 minute.
Now lower the heat, get the meat out of the soup and reserve. Using a dessert spoon, form dumplings and drop them into the soup (I found that the best method is to submerge the spoon into the hot soup).
Micsorati focul, scoateti carnea din supa si puneti-o deoparte. Folosind o lingurita, formati galustele si adaugati-le in supa (pentru mine, cea mai buna metoda este sa scufund lingurita in supa fierbinte)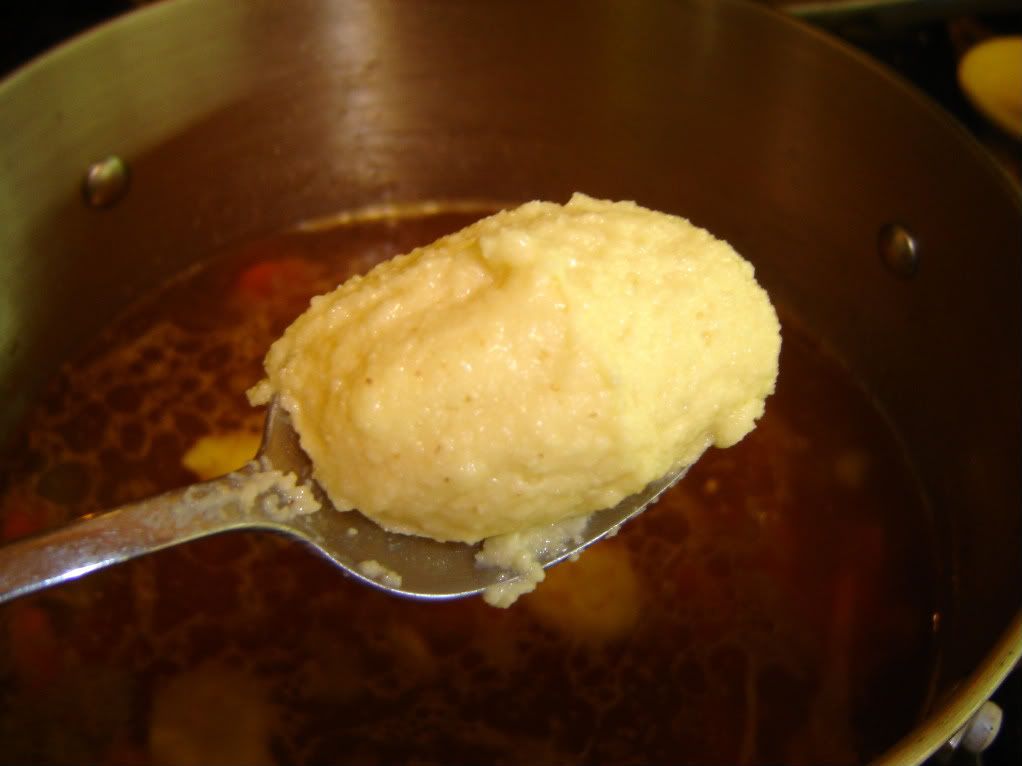 Continue until the grits composition is finished, then cover the pot and let it simmer for 30 minutes or until the dumplings are cooked.
Continuati pana terminati compozitia de galuste, acoperiti oala si lasati sa fiarba pentru 30 minute sau pana cand galustele sunt fierte.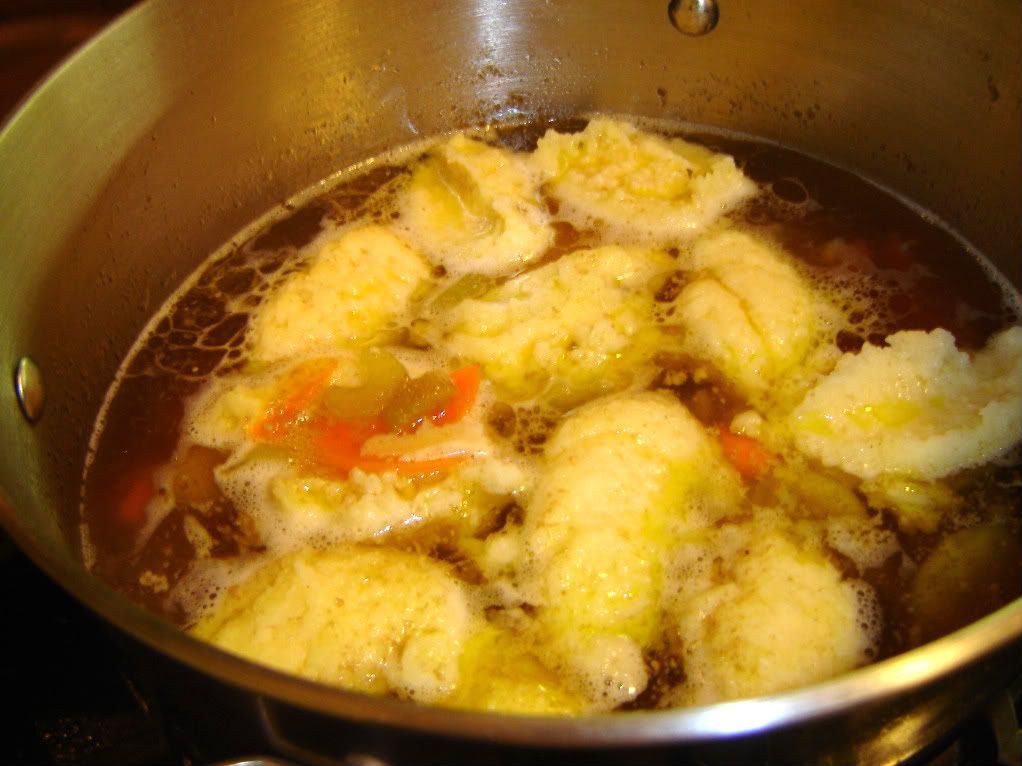 Shred the chicken meat (after removing the skin) and put it back in the pot to warm up, maybe 5 minutes. Add some chopped fresh parsley and turn off the heat. That's all!
Taiati carnea de pui in fasii (dupa ce ati indepartat pielea) si puneti-o inapoi in oala ca sa se incalzeasca, pentru aproximativ 5 minute. Adaugati patrunjel proaspat, tocat, si stingeti focul. Asta e tot!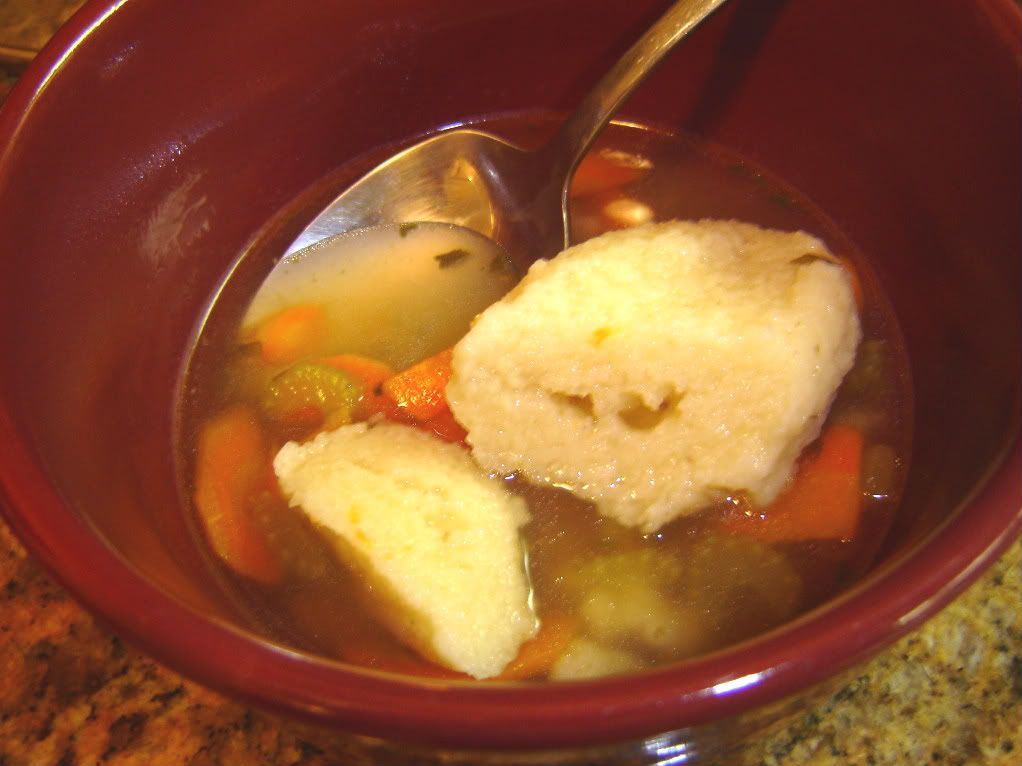 After already having had dinner, my daughter wanted one ladle of soup and one dumpling (I told you this soup is her favourite!), so that's a sectioned dumpling for you. Enjoy!