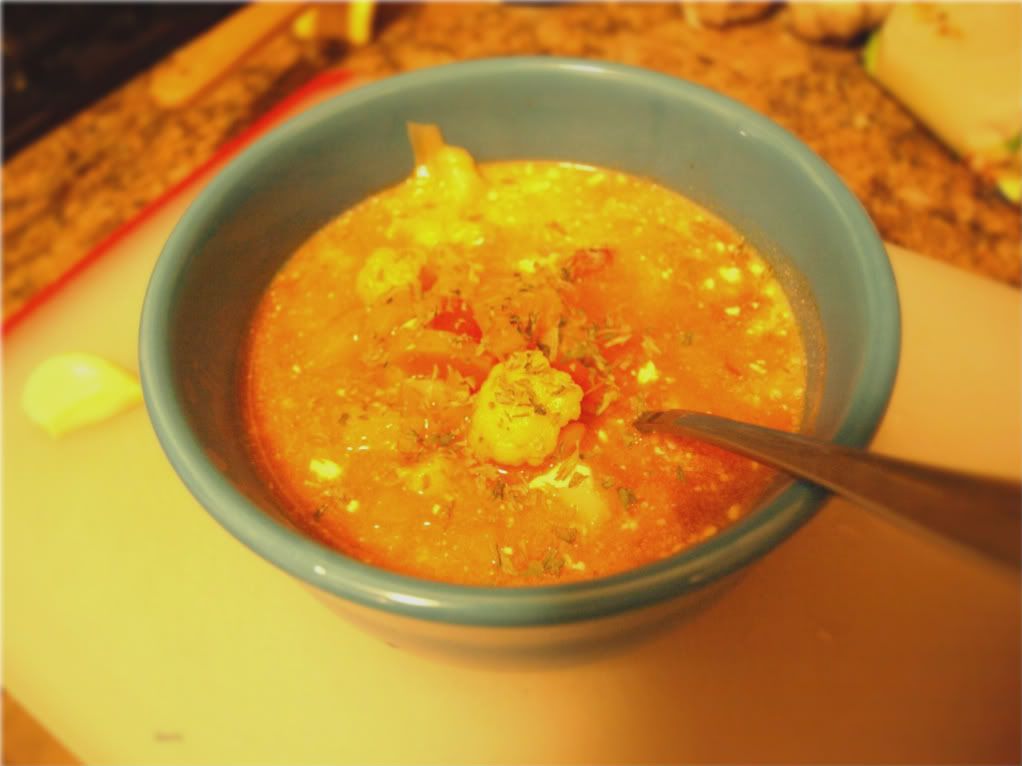 I honestly hope you'll forgive my photos, but the kitchen bulb died on me and no, it's not that easy to replace it, a) because I don't have a high enough ladder and b) I don't know how to remove the ceiling light fitting. On this note, I had to wait for the building maintenance personnel to assist with this very important problem, which took quite awhile. In the meantime, the light under the cabinets had to do, but they are definitely not suitable for taking photographs.
Now that I've vented, let's get down to business. For this soup (inspired by
Dana
) you'll need:
- 1 head of cauliflower
- 2 celery stalks, diced
- 1 large onion, chopped
- 2 large carrots, diced
- 1 bell pepper, cleaned and diced
- 2 qt chicken stock (can of course be replaced with vegetable stock)
- 1 bunch parsley, chopped
- tomato juice (to taste, about 1 cup)
- salt and pepper
- red pepper flakes to taste
Heat 2 tablespoons of olive oil in a pot on medium heat; add the onion, celery, carrots and bell pepper, salt and pepper to taste, the red pepper flakes, and saute for 7-8 minutes, until softened. Add the chicken stock, cover and allow to get to a boil.
In the meantime, clean the cauliflower and separate it in florets. When the soup is boiling, add the cauliflower florets and the tomato juice, cover and bring back to a boil. When the cauliflower is done (which should take about 10 minutes), turn off the heat, add the parsley and stir. If desired, it can be served with sour cream. Enjoy!