For this Turkish-inspired dish I used a recipe in which I substituted the beef meat for Italian sweet sausages. It was a very flavorful and interesting twist!
- 4 small eggplants (baby eggplants are just fine)
- 0.8 lb Italian sausage meat (casings removed)
- 1 medium yellow onion
- 1 bell pepper (I used a red one)
- 2 cloves of garlic
- 1 large tomato (can be replaced with canned tomatoes)
- 4 tbsp olive oil
- 1 small bunch of parsley, chopped
- salt and pepper to taste
- sweet or hot paprika (optional)
Cut the end of the eggplants, then peel them in stripes. Place them in a large bowl filled with water (with 1 tsp of salt) for 15 minutes. Drain them thoroughly with paper towels. Heat the olive oil in a skillet over medium heat; add the eggplants.
Fry the eggplants on all sides, until slightly brown (they only need to soften) and put them in a casserole dish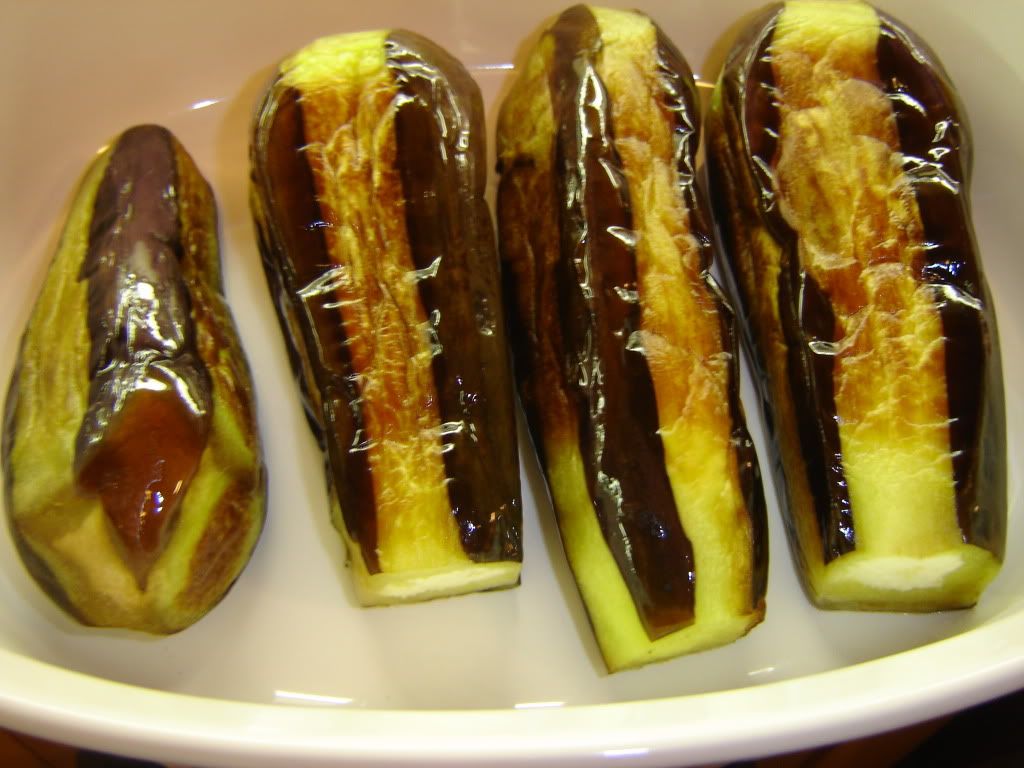 Add the meat in the same skillet were you fried the eggplants
In the meantime, clean and finely chop the onion, tomato and bell pepper (you can also use the food processor, like I did), and grate the garlic. After the meat is slightly browned on all sides, add the veggies to the skillet
Stir very well to combine, season to taste with salt pepper and paprika (if using), then allow to cook for 10 minutes or until the veggies have softened, then add the parsley. Stir and turn off the heat. Preheat the oven at 400F.
Cut each eggplant in the middle, making sure you don't cut through to the bottom, then carefully "open" each eggplant and get the stuffing in. Add water around the eggplants until you reach half their height, making sure it does not touch the stuffing.
Place in the preheated oven for 30-35 minutes or until the top is nicely browned.
Top with yogurt and serve. Enjoy!