I think I've made this dish about three times in the past two weeks, that's how good it is. The idea comes from Dana and she's made it quite a few times, believe me! So, this is my take on it
.
Ingredients:
- 2 lbs yellow onion, sliced
- 4 big leeks (only the white part)
- 1/2 lb veal shoulder, cut in bite-size cubes
- about 3 tbsp olive oil
- approximately 1 bottle (3 cups) dry white wine, it can be less than that depending on the quantity of the other ingredients
- 1 tbsp tomato paste
- 1-2 bay leaves
- allspice berries (about 10), salt and pepper to taste
- approximately 7-8 slices of lemon
First clean the leeks, by slicing the white part and putting them into a big bowl with cold water. Stir them a little bit in the bowl, then let them in the water for 10 minutes, so that the sand and dirt collect at the bottom of the bowl.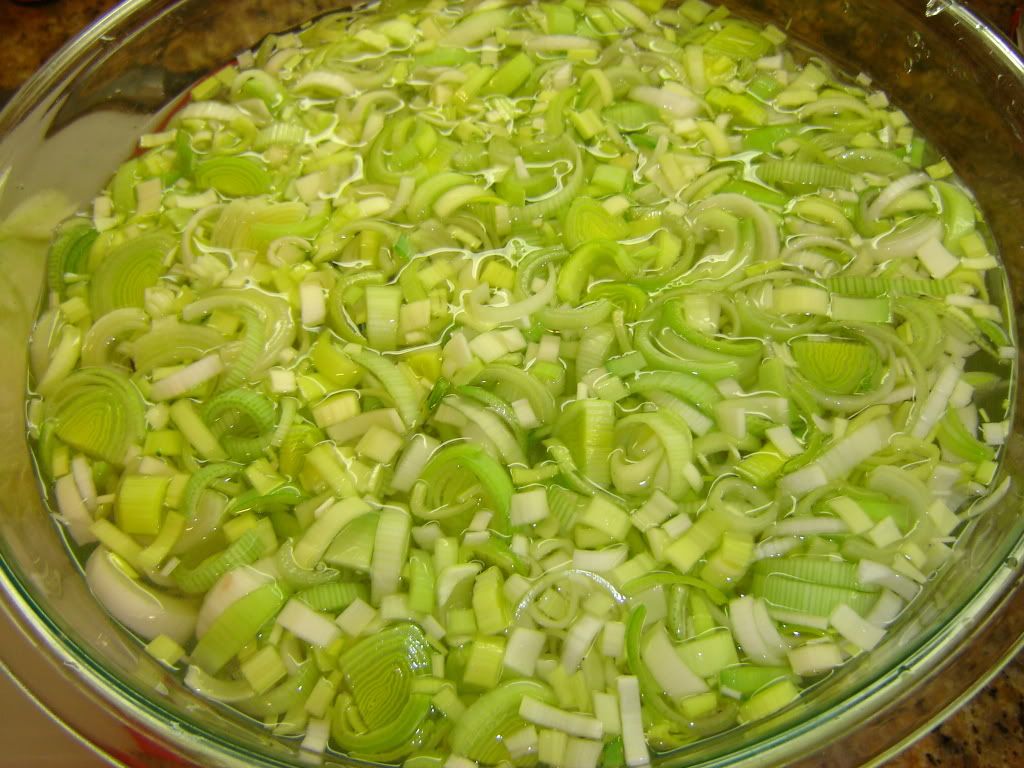 In the meantime, slice the onions
Heat the olive oil in a large Dutch oven on medium heat, then add the onions and the leeks, together with 1/2 cup of the wine and some salt. Reduce the heat to low and cook, stirring frequently, until the onions and leeks are softened, but not changed colour. This will take some time, so be patient! Add the veal and some pepper and continue stirring and adding wine when necessary. Let it cook for about 15 minutes
Now add the olives (mine were with herbs), tomato paste (which I dissolved in white wine), bay leaves and allspice berries. Preheat the oven at 375F.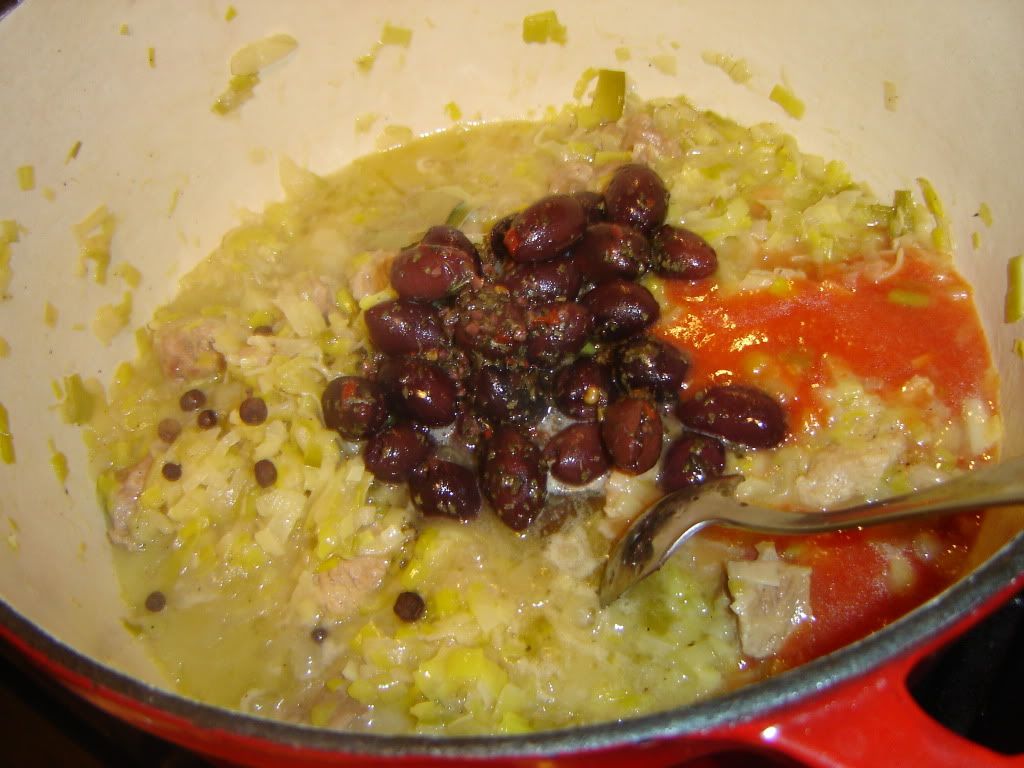 Stir to combine, add another 1/2 cup wine and let it cook on low heat until the liquid reduces a bit (about 15 minutes). When you feel like you must absolutely taste it, because the smell is driving you crazy, season with salt and pepper, pour 1 cup of wine, stir very well, cover and place in the preheated oven for another 30-40 minutes, or until the liquid is gone and the stew sizzles. Take the pot out of the oven, add about 5 slices of lemon to the stew, cover and let it rest for 10 minutes, then remove the lemon slices from the pot, so that the dish won't turn bitter.
This stew is very good when warm, but it's fantastic served at room temperature, with freshly made bread and garnished with slices of lemon. And here it is again:
The meat is absolutely melting in the mouth, and the combination onion-olives-lemon is irresistible. You can very well make this a vegetarian dish, I've done it and I didn't feel the need for meat in this stew. Enjoy!