I haven't posted anything in a week, I know, but work is taking up all of my time. I'll try to redeem myself with this very tasty and quick quiche, for which you'll need:
- 1 lb asparagus, woody ends trimmed
- 4 oz bacon, finely sliced (optional)
- 1 medium onion, finely chopped
- 1/2 cup frozen corn, thawed
- one handful of sun-dried tomatoes, sliced (optional)
- 2 eggs
- 1 1/2 cups heavy cream
- 2 oz grated Parmesan cheese
- salt and pepper to taste
- 1 sheet puff pastry, thawed and rolled out for a 10-inch tart form
First and foremost, fry the bacon in a non-stick pan. When it's done, take out the bacon on a plate, leaving the fat in the pan, because the asparagus will go in there immediately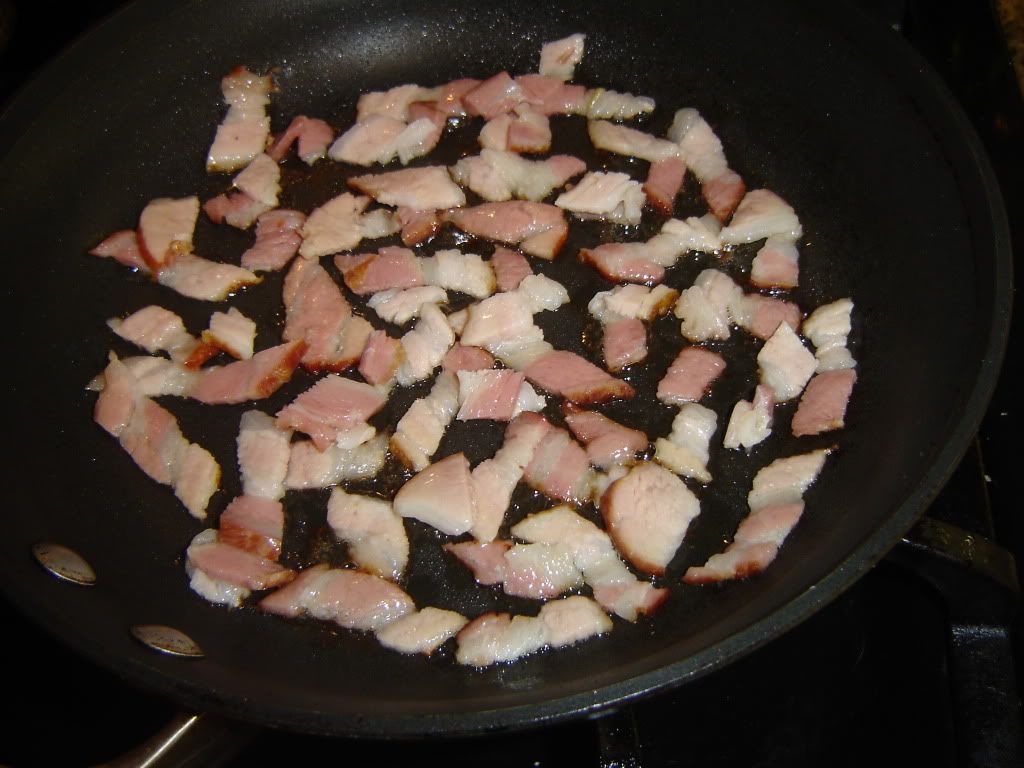 So now comes in the asparagus. Allow to cook until softened
In the meantime, roll out the puff pastry and place it in the tart pan previously generously buttered. Don't cut out the edges, as the pastry will shrink during baking. Spread the bacon and asparagus evenly on top of the pastry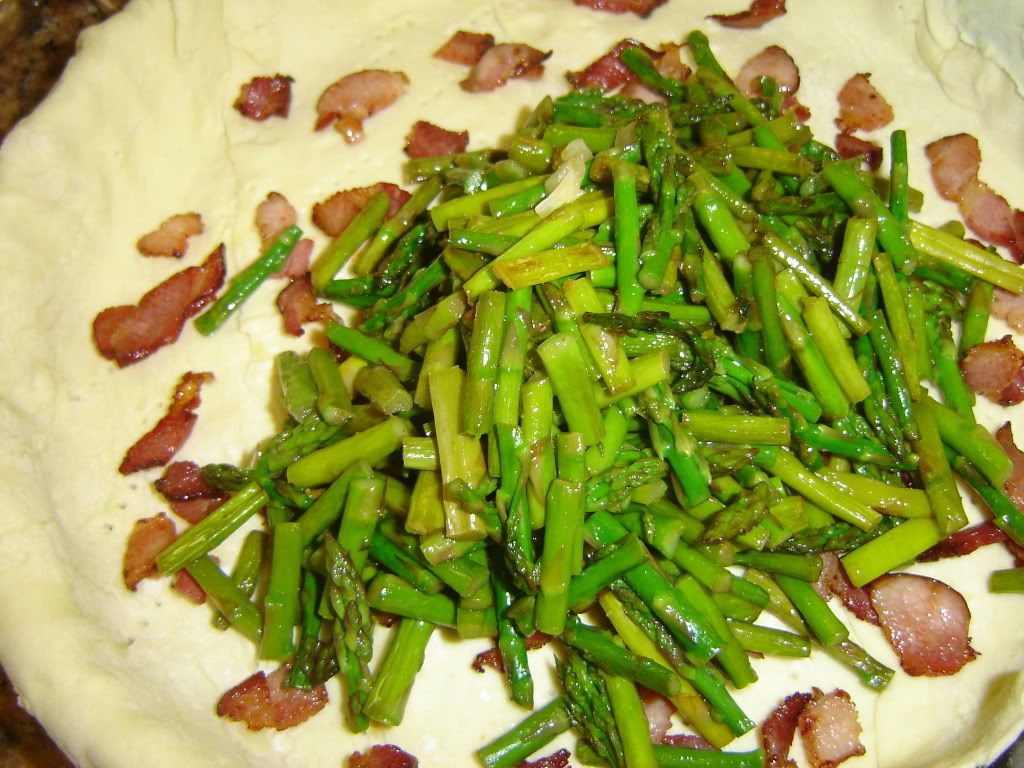 Add the chopped onion to the pan where you fried the bacon and cooked the asparagus, and, if necessary, add one teaspoon of olive oil. Let the onion soften, add the thawed corn and mix to combine, then warm it for a couple of minutes. Pour everything over the bacon/asparagus mix (missing the photo, sorry!), then add the sliced sun-dried tomatoes.
Beat the two eggs with salt and pepper to taste, slowly adding the heavy cream and the grated Parmesan cheese. Carefully pour the mix in the tart form, over the rest of the filling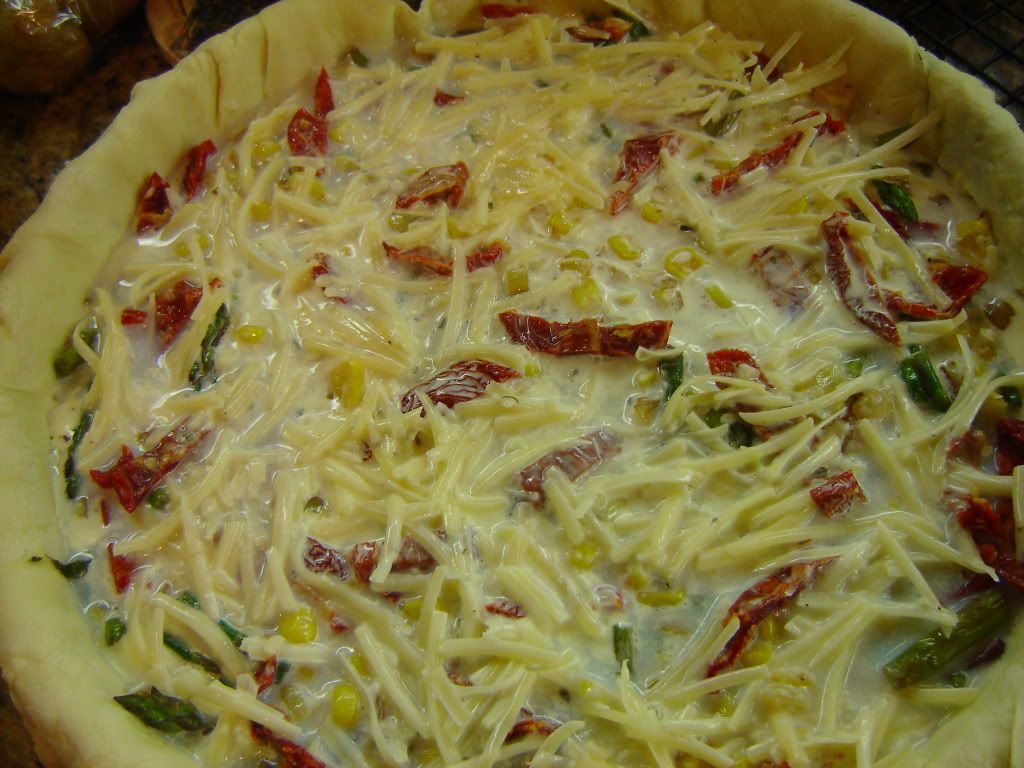 Bake in the preheated oven at 400F for about 60 minutes or until the top of the quiche is browned and the centre is set.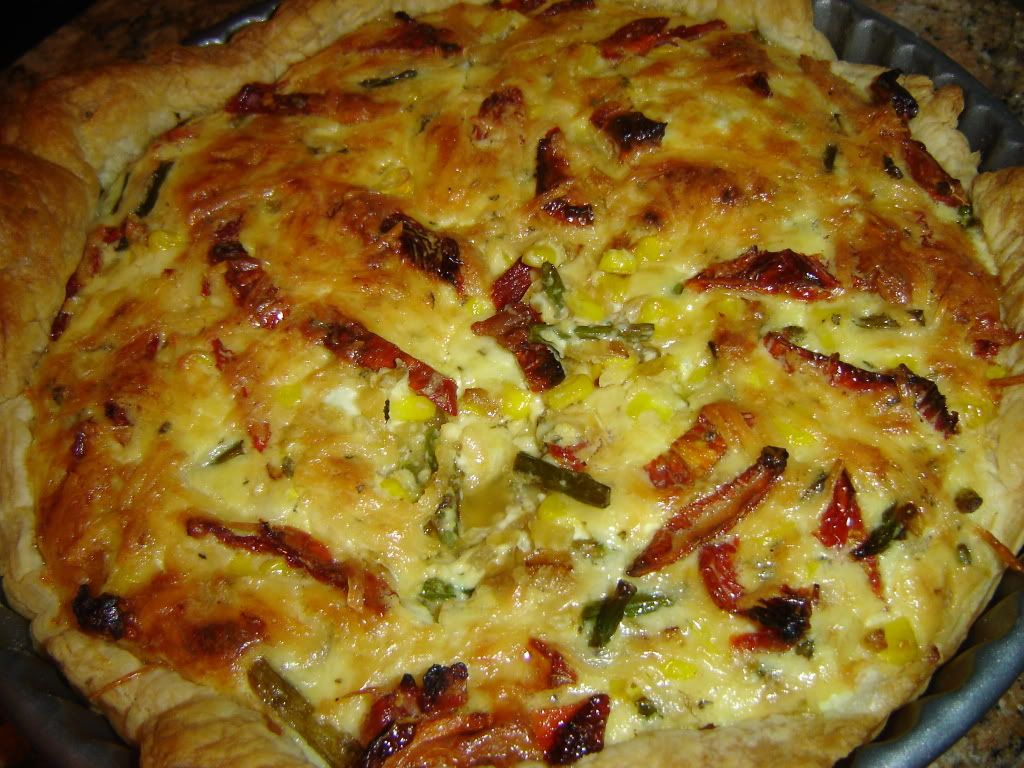 And here it is served with baked salmon (not a very good picture, I know)