I found a wonderful recipe for artisan bread, extremely simple to make but very tasty. It makes two 1-pound loaves.
The ingredients are:
- 1.5 cups lukewarm water
- 1 packet granulated yeast
- 3/4 tablespoons kosher or other coarse salt
- 3 1/4 cups unsifted, unbleached, all-purpose white flour, measured with the scoop-and-sweep method
- 1/4 cup high-quality olives, pitted and halved
- some cornmeal for pizza peel (I don't have a pizza peel, I use a normal cutting board)
The water should feel just a little warmer than body temperature, about 100F. Add the yeast and salt to the water in a 5-quart bowl (don't worry about getting it all to dissolve). Add all of the flour at once and mix it (I asked my KA again to do the honours). Don't knead, it's not necessary! It's finished when everything is uniformly moist, without dry patches, in a matter of minutes.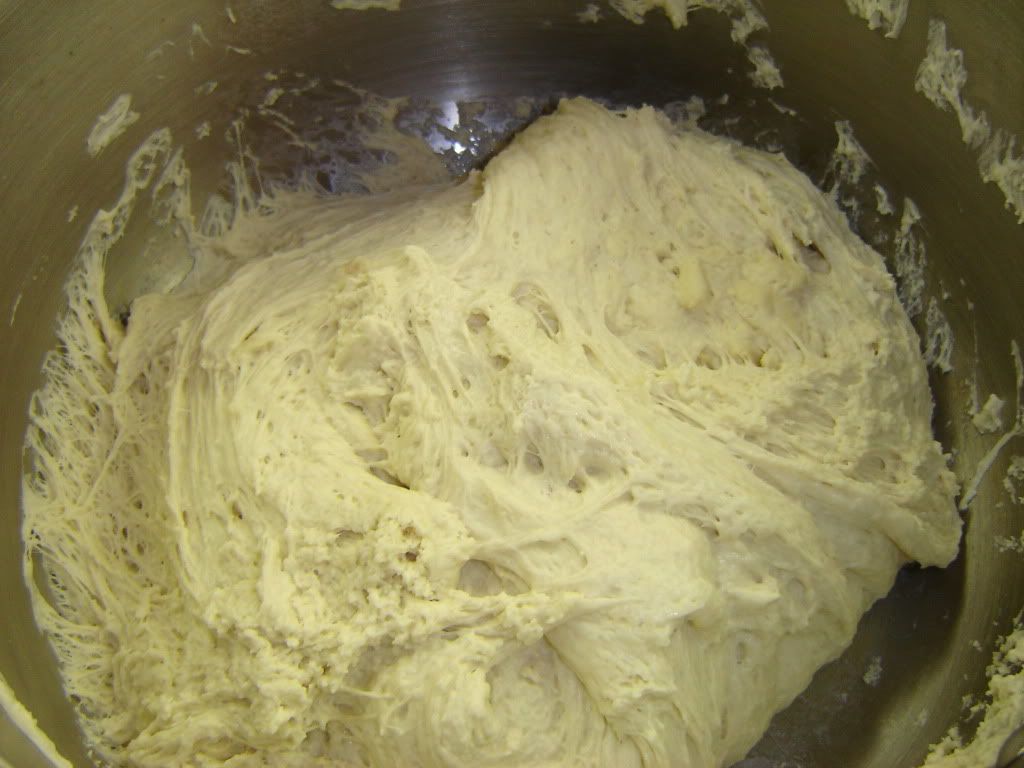 Cover with a lid (not airtight) that fits well to the container you're using. Allow the mixture to rise at room temperature until it begins to collapse, approximately 2 hours, depending on the room's temperature and the initial water temperature. Longer rising times, up to 5 hours, will not harm the result. You can use a portion of the dough any time after this period.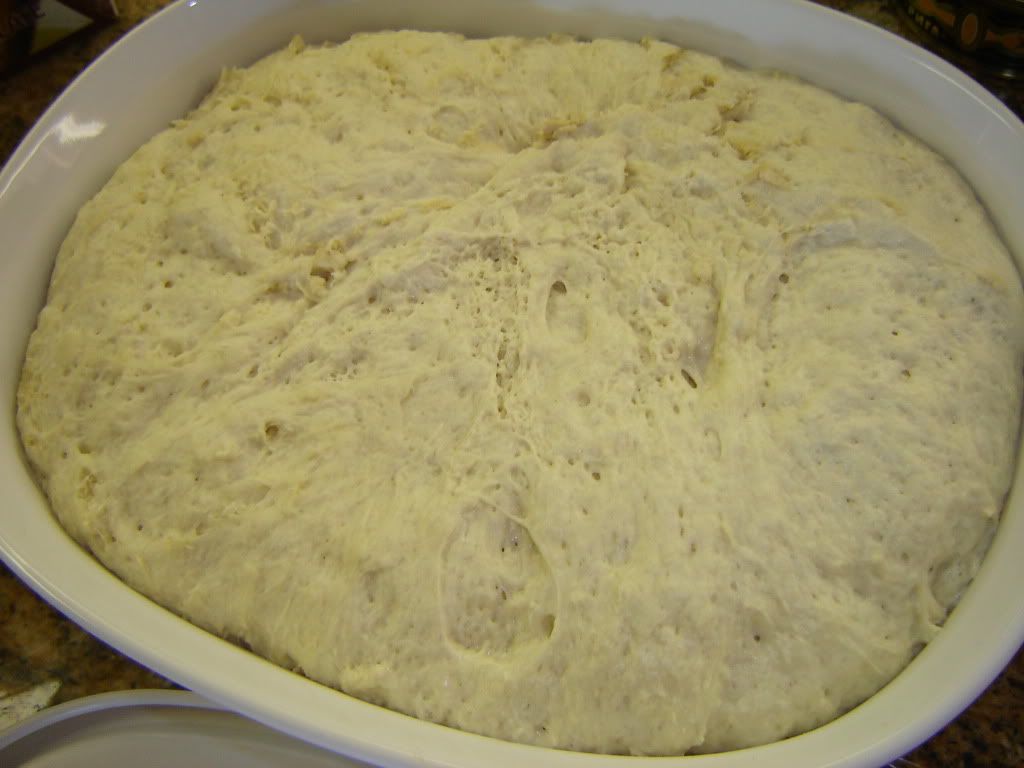 Sprinkle liberally the pizza peel (or whatever you use instead) with cornmeal to prevent the loaf from sticking to it when you slide it into the oven. Sprinkle the surface of the dough with flour, then pull up and cut off a 1-pound piece of dough, using a serrated knife.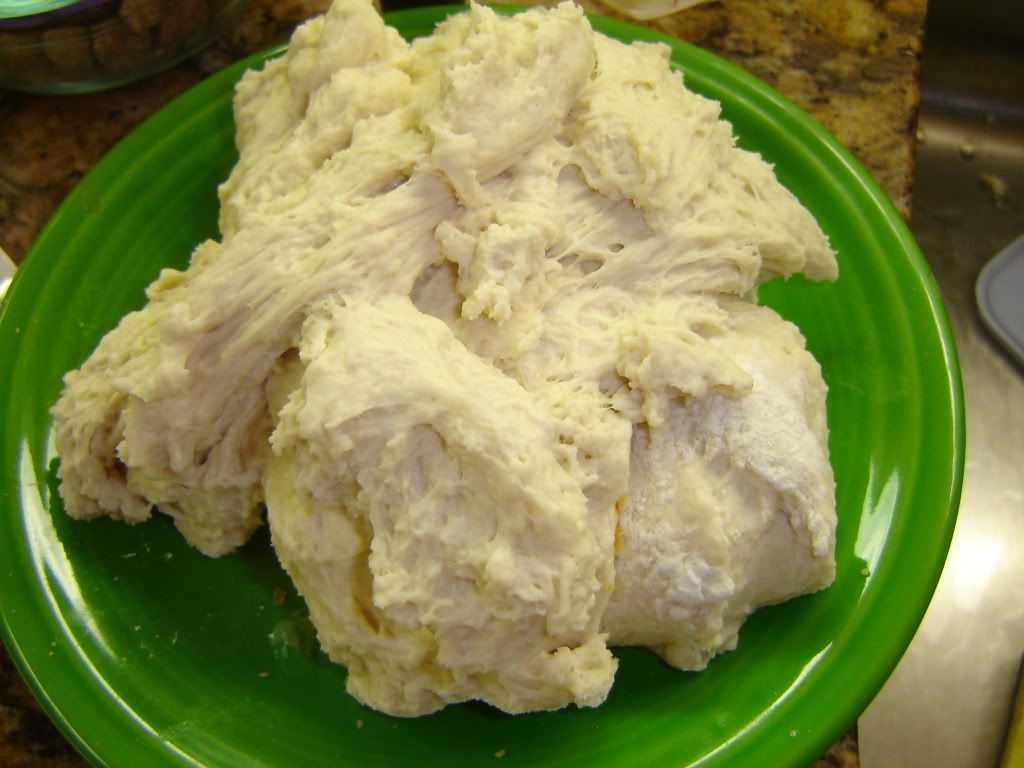 Using your hands and a rolling pin, flatten the dough to a thickness of 1/2 inch. Cover with the olives and roll up to seal inside dough.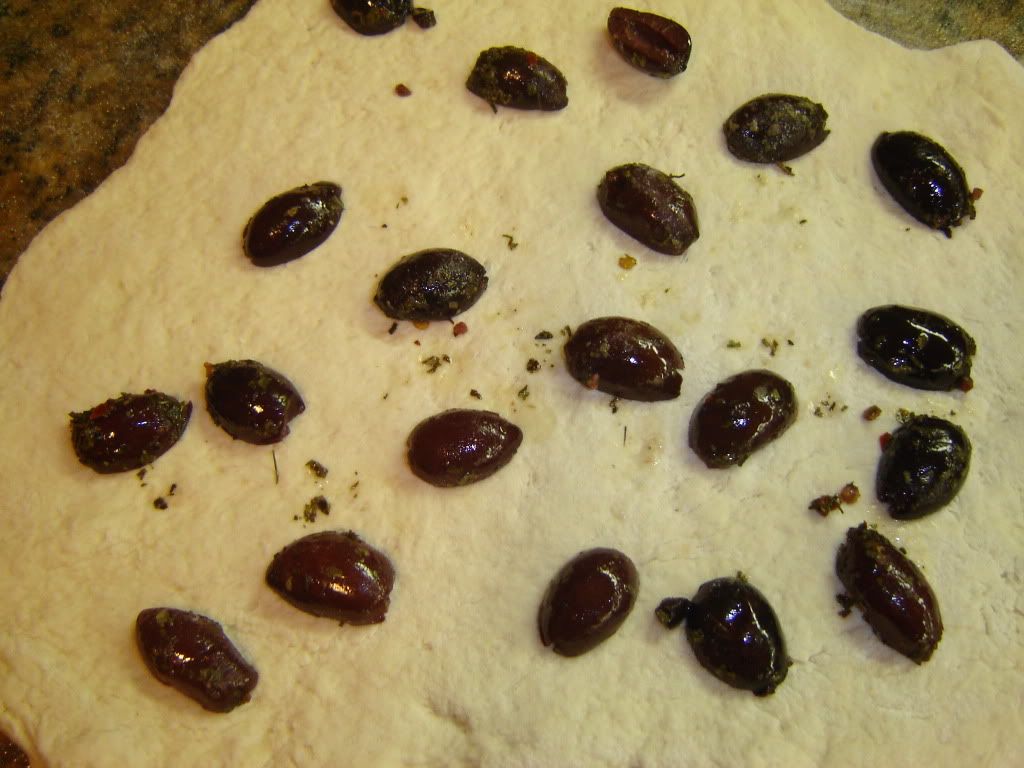 Dust with more flour and quickly shape it into a ball by stretching the surface of the dough around to the bottom on all four sides, rotating the ball a quarter-turn as you go. This should take about 30-60 seconds. Place the shaped ball on the cornmeal-covered pizza peel and allow to rest and rise for 1 hour.
20 minutes before baking time, preheat the oven to 450F, with a baking stone placed on the middle rack. Place an empty broiler tray on any other shelf that won't interfere with the rising bread. Just before baking, slash a cross or tic-tac-toe pattern into the top, using a serrated knife. Slide the loaf directly onto the hot stone. Pour 1 cup of hot tap water into the broiler tray and quickly close the oven door. Bake for about 35 minutes or until the top crust is browned and very firm.
Allow to cool on rack before slicing or eating.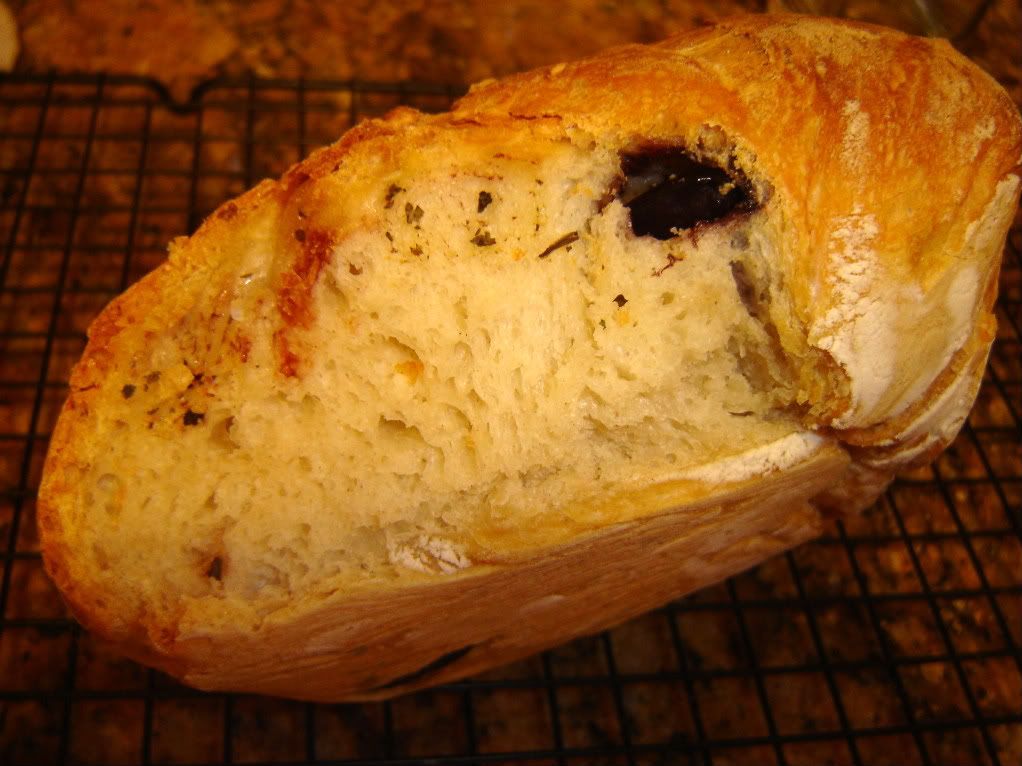 Keep the remaining dough refrigerated in the lidded (not airtight) container and use it over the next 14 days.