The other day I was talking to a friend of mine about what we would like to eat and have not cooked in a while and she reminded me of this dish. It requires a little bit of attention, but it's not complicated at all.
Vorbeam zilele trecute cu o prietena despre ce-am fi mancat si n-am mai gatit demult, iar ea mi-a amintit de ciulama. Necesita putina atentie, dar nu este deloc dificil de facut.
So I took 1 lb of veal meat, cut into bite-size pieces, 1 carrot and 1 medium onion, 1/2 stick butter, 2 egg yolks, 1.5 tablespoons all-purpose flour, 2 tablespoons sour cream and some chopped fresh parsley. In an ideal world I would have also added 1 lb of mushrooms, but, as I previously said, my daughter doesn't like them, so I didn't use them. You can use chicken meat or just the mushrooms if you wish, it's pretty versatile.
Asa ca am adunat 1/2 kg carne de vitel, taiata in bucati cat o imbucatura, 1 morcov si o ceapa medie, 50 gr unt, 2 galbenusuri de ou, 1,5 linguri de faina, 2 linguri de smantana si niste patrunjel proaspat, tocat. Ideal ar fi fost sa pun si 1/2 kg de ciuperci dar, dupa cum am mai spus, fiica-mii nu-i plac, deci n-am folosit. Puteti face ciulamaua si cu carne de pui sau doar cu ciuperci, se preteaza cu usurinta acestor variante.
Put the meat to boil in cold, slightly salted water (the water should just cover the meat) on low heat. After it boils make sure you remove the froth that forms on the surface of the water; do that 2-3 times. Add the carrot and the onion (skin removed), for flavour. Let everything boil until the meat is cooked, then put meat aside and reserve the liquid.
Puneti carnea la fiert in apa rece, usor sarata (apa trebuie doar sa acopere carnea), la foc mic. Dupa ce da in clocot, spumuiti de 2-3 ori, apoi adaugati morcovul si ceapa, curatate. Lasati sa fiarba totul la foc mic pana ce carnea este gata, scoateti carnea deoparte si pastrati lichidul in care a fiert.
In a separate pan melt the butter and sprinkle the flour over it
Separat trageti faina in unt avand grija sa nu se ingalbeneasca, apoi stingeti cu zeama in care a fiert carnea, amestecand mereu pana ajunge la consistenta unei smantani (sa nu aiba cocoloase!)
Combine it very well with a whisk and let it cook for a minute on low heat, making sure that the flour doesn't brown; then add, little by little, the liquid resulted from boiling the meat, until the mixture reaches the consistency of sour cream and does not have any lumps. Keep on whisking!
In the meantime, mix the egg yolks with the sour cream
Bateti galbenusurile cu smantana
then pour it over the flour mixture
si turnati usor peste sosul din cratita
Correct the seasoning and, of course, whisk it some more! :D
Gustati de sare si piper, amestecand in continuare ca sa nu se taie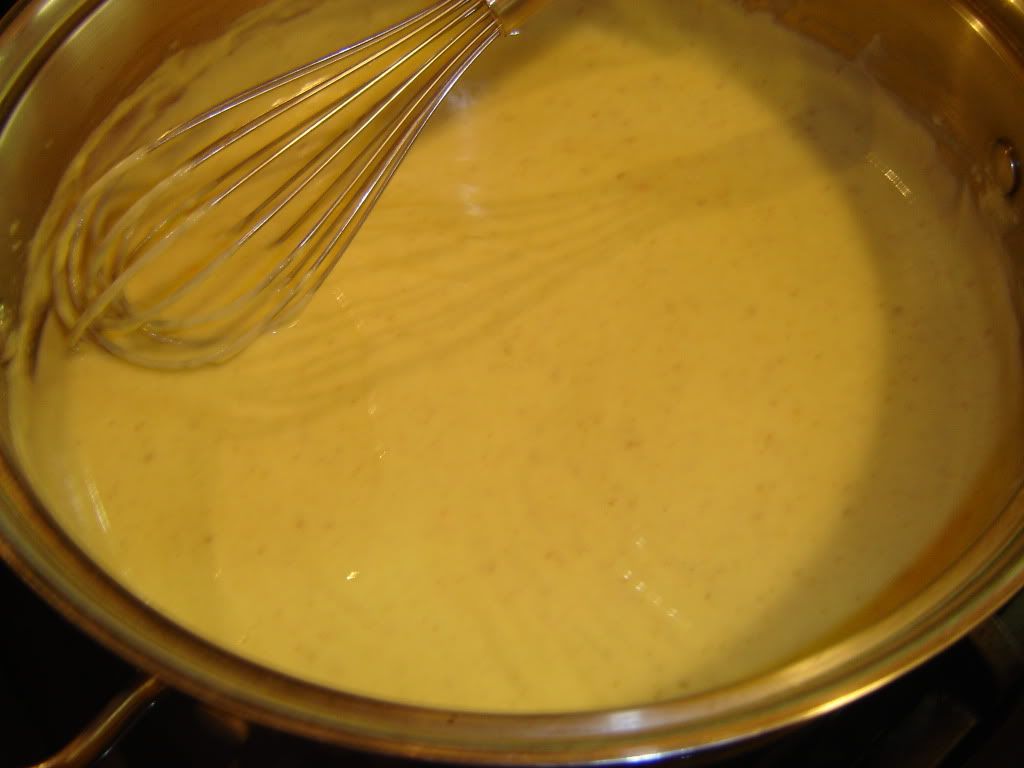 Put the meat (and the mushrooms, if using) in the sauce
Puneti carnea (si ciupercile, daca folositi) in sos
and allow to cook for 2-3 minutes more, stirring continuously and without boiling it
si mai lasati 2-3 minute sa se imprieteneasca, amestecand continuu si fara sa lasati sa fiarba
Sprinkle with chopped fresh parsley and serve!
Presarati cu verdeata si serviti!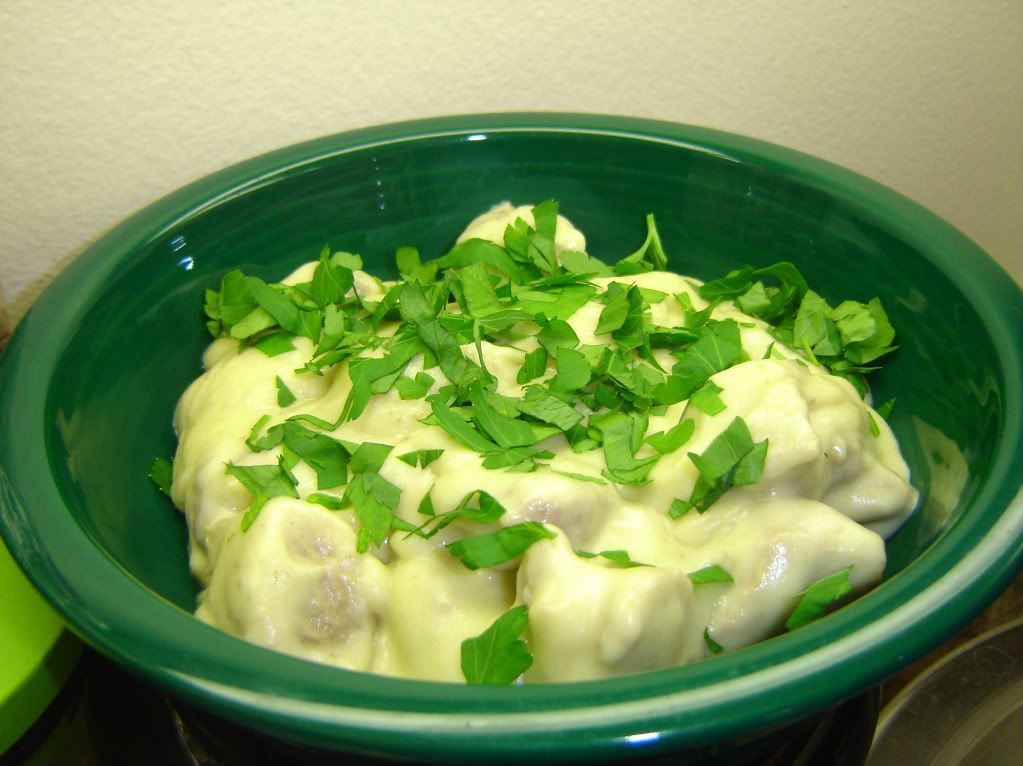 My advice to you, if you also use mushrooms, is to saute them in butter before adding to the white sauce. Believe me, you'll thank me for that!
Daca folositi ciuperci, trageti-le in unt inainte de a le adauga in sos. Imi veti multumi! :D